While I generally prefer the simplicity of manual machines for everyday sewing and beginners who are just starting out, sometimes having all the bells and whistles of a computerized machine is particularly handy. If you're looking to take your projects to the next level – this might be the machine for you. Check out all the details on this versatile deluxe machine with my Singer 9960 Review.
Singer 9960 Quantum Stylist Review: It's got all the Bells and Whistles!
Learning the ropes of a new machine is always a daunting task. While I still personally prefer manual machines for their simplicity and versatility, you might be looking to increase your knowledge and try out some new stitches. Whether you're a fashion designer or an amateur professional making the rounds at the craft show circuit, take a look at the Singer 9960.
Key Features
The Singer Quantum Stylist 9960 is an excellent computerized machine that can elevate your sewing projects. It has a ton of extra capabilities to spark your interest, and keep you coming back to try something new. It boasts the following features:
600 built-in stitch patterns
Auto-pilot mode
850 stitches-per-minute stitch speed
Fully customizable stitches
Helpful diagrams
Automatic needle threader
Automatic thread cutter
Extension table
Button-touch stitch selection and visible computerized display
Tons of accessories!
Set it and Forget It
This machine handles a lot of the work for you with its "auto-pilot" mode, especially with decorative additions to your projects. Let's say you'd like to write, "Happy Holidays" on a pillowcase. All you have to do is program the alphanumeric letter stitches and run your machine. You'll have to trim your threads afterward, but the machine makes it easy to add a ton of different decorative stitches to your projects.
More than 18 Extra Presser Feet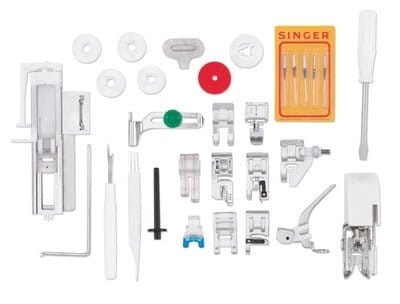 If you're the type of sewer who's always working on a lot of different small projects, having a variety of presser feet available is definitely an added perk. The Singer 9960 includes a variety of different walking feet – practically one for every project out there!
Included with this model are the following presser feet:
All-purpose foot
Zipper foot
Button-sewing foot
Blind hem foot
Cording foot
Satin foot
Rolled hem foot
Open toe foot
Overcasting foot
Buttonhole foot
Patchwork foot
Even-feed walking foot
Narrow hem foot
Straight stitch foot
Darning and freehand embroidery foot
Adjustable bias binder foot
Single-welt cording foot
Braiding foot
Clear piping foot
Stitch in the ditch foot
Fancy trim foot
No matter what project you're working on, this machine likely includes the foot for the job. If you find this list is still not inclusive enough for your projects, you can always purchase any additional Singer accessories. It also comes with accessories to help you handle buttonholes, and helpful attachments to guide the feet that don't seem to quite fit properly.
Handy Embroidery Functionality
With the Singer Quantum Stylist 9960, embroidery is possible, but it's just not computerized. Just use the included darning and embroidery foot to handle your embroidery projects (and it can also do some free-motion quilting, too!). This machine is great for someone who wants to occasionally embroider their projects, but may not want to invest in a completely separate embroidery machine.
Over 600 Stitches to Choose From
One of the benefits of computerized machines is the exceptionally wide variety of stitches they offer. As with other Singer machines, the Singer 9960 features a helpful diagram on the inside of the upper case cover.
Finding the individual stitches in the electronic menu can take a bit of practice, but there are several basic stitch function buttons on the front of the machine to help speed things up. Overall, there are 600 different stitch options, including decorative, stretch, 5 alphanumeric fonts, and 13 built-in 1 step buttonholes.
Customize Your Stitches
Aside from the vast range of stitch choices, you can also customize them in a variety of ways. All stitches can be adjusted for length and width, of course, but there are other options too.
Some stitches can be elongated (either 2 or 5 times). The density of the stitch changes, but the length is the same, giving it a different look.
On other stitches you can add side-to-side mirroring, front-to-back mirroring, both. Select these options with a few presses of a button, and voila. Go wild and experiment!
Pros and Cons of the Singer 9960
Singer Quantum Stylist 9960 Accessories
Aside from all of the extra presser feet, this machine comes standard with some other accessories including a seam ripper, extra needles, an extra-wide extension table, bobbins, spool pin, felt, seam guide, quilting bar, screwdrivers (for changing the needles), a clearance plate, and a shank for the snap-on presser feet that don't quite seem to fit.
Additional Tips
This machine has a lot of fancy bells and whistles. This is great, especially if you already have a pretty good sewing foundation. But to the average consumer, 600 stitches can be pretty overwhelming! Here are some handy additional tips to keep you going.
If the display is too dim for you, find the little wheel near the bobbin winder. You may have turned it accidentally and turned down the brightness on your screen. Turn it back up, and you're probably good to go!
Test any decorative stitch on a piece of scrap fabric first, just to make sure you've programmed the one you want. Don't ruin a new garment with elaborate lettering in the wrong font!
Make sure you're using the right stitch and the right presser feet for the job at hand. When in doubt, check your manual or consult YouTube for help. If you're still having trouble, try focusing on using the basic stitches first. Buttons for these basic stitches are located on the left-hand side of the function button area.
When you're changing your needles, throw a piece of paper over your lower bobbin area. This will ensure that you don't drop your needle into your machine accidentally. That would be a disaster!
When setting up your machine, make sure to place your lower bobbin into the machine so that the thread is facing counterclockwise. Hold it so that the thread end and the bobbin makes a "P" shape ("P for perfect sewing!").
Always use a Singer 9960 bobbin. This machine takes clear plastic class 15 bobbins. Using the wrong size or wrong class could damage your machine.
Let's Put It To The Test
Singer 9960 vs 9985
The Singer 9960 sewing machine and the Singer 9985 are very similar models in a lot of respects, but they have a few key differences. For one, the 9960 has an extension table (when you just need that extra room). It also has two LED light sources, as well.
The 9985 has 960+ stitch selections, and the 9960 only has 600. But, most of the selections on the 9985 are decorative. If you just want a decent range of decorative stitches (but not a totally overwhelming amount), the Singer 9960 is fine.
Singer 9960 vs Brother SE400
The Brother SE400 is a 2-in-1 sewing and embroidery machine. It's small and versatile, and it has around 70 embroidery designs and 67 built-in stitches. However, it only has 6 extra presser feet. Plus, you have to purchase additional embroidery patterns on separate cards – they're not included.
If you don't need a fully functional computerized embroidery machine, then the Singer 9960 Quantum Stylist Sewing Machine will be just fine.
Singer 9960 Review F.A.Q.
Is this machine good for beginners?

Answer: Yes and no. As long as a beginner reads the guide thoroughly and practices their favorite stitches, this machine is fairly easy to use.
That said, it can be overwhelming for the new sewer, and threading the bobbin is not as simple as it is on other machines. Always check the manual, and consult YouTube for help if you get stuck!

Is it good for quilting?

Answer: This machine comes with a few extra features that are specifically made with quilting in mind. The extra walking foot, quilting bar, and darning and freehand embroidery foot can handle most quilting projects.

Can this machine handle heavy-duty fabrics?

Answer: Yes, it can handle heavy fabrics such as denim or light canvas. Just be sure to use the proper heavy-duty needles and thread, and the included clearance plate can help you manage thick seams.
Final Verdict
This computerized machine can handle almost anything you throw at it. Whether you're an amateur sewer who wants to take your projects to the next level, or you're looking for a machine with a great range of stitches – the Singer Quantum 9960 might just be the machine for you.
While it can be a little intimidating to beginners, most fairly experienced sewers can easily learn the extra function buttons in no time. I hope you found all of the information you were looking for with my Singer 9960 review.
To learn more about heavy duty sewing machines, click here.