Are you an experienced sewer, looking for a little more bang for your buck? If you've been searching for a machine that can handle both your sewing and quilting needs, then you've come to the right place. With this Brother HC1850 review, you'll get all the juicy details of this feature-packed versatile sewing and quilting machine.
One machine to rule them all…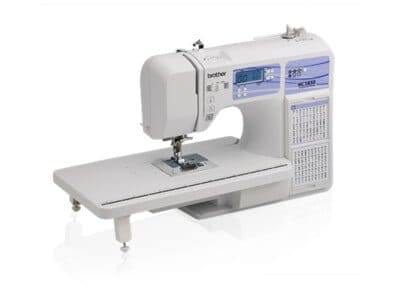 Many sewing machines today lack the necessary features required to handle quilting projects. Either that, or you have to purchase a ton of additional accessories. The Brother HC1850 computerized sewing and quilting machine takes care of the hard stuff for you, and it can handle almost any project you throw on it.
I know when I was first learning to sew (all those many moons ago), my grandmother helped me make a beautiful quilt we fashioned out of scraps of old fabric. The sewing machines back in those days could handle such a feat, although with far fewer bells and whistles.
Luckily, this machine doesn't disappoint in that department. It has all the features you need – and nothing you don't.
Key Features
This machine has plenty of fancy extra features to keep experienced sewers satisfied, and novice sewers busy. If you've been looking for something to add a little oomph to your projects, check out the following features:
130 built-in stitch choices
Advanced automatic needle threader
Jam resistant quick-set bobbin
LCD screen and brightly lit work area
Wide extension table
Smooth feed system
Tons of accessories (including some specifically for quilting)
Instructional DVD included
Handy thread cutter
Convenient stitch selection flip-chart
Tons of Stitch Options
With over 130 built-in stitches, you'll have more than enough options for any project. This machine features 42 different garment construction stitches, 14 quilting stitches, 94 decorative stitches, 12 heirloom stitches, 8 different 1-step buttonhole options, and a built-in monogramming font.
You can also adjust the length and the width of your stitches as needed, and some of the stitches can be mirrored as well. Increase the length to 7mm and the width to 5mm using the handy programming buttons.
Easy Stitch Selection
There's nothing I dislike more with computerized machines than a complicated stitch selection process. Some machines have an overwhelming interface, with infinite scrolling and button-pushing. No thanks!
This machine has a simple LCD display, and only a few buttons to bother with. Select your stitch using the handy numbered stitch guide (you may have to flip it up). It'll tell you which presser foot to use and give you an automatic stitch setting selection. What could be more simple than that?
Speed Control Options
With this machine, you have the option to use the foot controller. Or not! The machine also has 3 different speed settings, so you can adjust your speed as you go.
Automatic Needle Threader
This machine thankfully has an automatic needle threader. No need to squint and poke around to get your needle threaded! Make sure you thread your needle from right to left so it's working properly.
Plenty of Quilting Capabilities
Because this is a dual sewing and quilting machine, it comes with a few accessories to get you started on your quilting projects right away. This machine comes standard with a wide quilting table for extra working room, a spring action quilting foot, and a drop feed for free-motion quilting.
Pros and Cons of the Brother HC1850
Tons of Accessories!
The Brother HC1850 sewing machine comes packed with accessories. Included with this model are the following presser feet:
Zigzag foot
Overcasting foot
Monogramming foot
Zipper foot
Blind stitch foot
Buttonhole foot
Button-sewing foot
Quilting foot
It also includes an accessory pouch containing extra needles, bobbins, a cleaning brush, an eyelet punch, spool caps, an extra spool pin, and a seam ripper. There's also a handy instructional DVD, which gives you a good overview of your machine (in English or Spanish!).
If you find yourself doing a lot of quilting, or you just want to have some more options, you may want to purchase additional feet (such as a Brother HC1850 walking foot) or accessories. However, the accessories that come standard with this machine should be enough to get you started fairly easily.
Let's Compare
If you're trying to decide between the Brother HC1850 and its cousin, the CS6000i – let's take a look at some of the differences:
Brother HC1850 vs CS6000i
While they're both computerized sewing and quilting machines, the CS6000i only boasts 60 built-in stitches (vs the HC1850's 130). The HC1850 also has a built-in monogramming font, and the CS6000i does not. Other than that, the HC1850 is a little heavier and more rectangular in shape, whereas the CS6000i is a little lighter and sports more curves in its design.
If you want something a little more beginner-friendly, consider the CS6000i. But if you want more stitch options, the HC1850 is probably the way to go.
Additional Tips
To keep your Brother HC1850 in tip-top shape, consider these additional tips.
Use the correct bobbins. Your machine will have several plastic bobbins included, but make sure to purchase the correct size and class. Using the wrong bobbin can damage the delicate parts of your machine.
Know when to turn it on and off. This machine requires you to turn the power on and off during different stages of use. Make sure the power is off when you're changing the presser feet, and if you're not sure when to turn it back on – check the manual!
Make sure you're winding the bobbin correctly. It can be a little tricky to figure out this machine's bobbin winding system, especially the first few times. Double-check the instructional DVD, or consult the manual to be sure you've got the hang of it.
Brother HC1850 Review F.A.Q.
Can this machine handle heavy-duty fabric?

Answer: Yes and no. While it can generally handle thinner denim, it's not really designed to plow through layers upon layers of heavy-duty material. The machine is solidly-built, but light. Be careful when selecting heavy fabrics, and check the manual for more guidance.

Is this a good machine for beginners?

Answer: I personally think this machine is better for more experienced sewers, but there's no reason a beginner couldn't be successful.
Some of the features on the Brother HC1850 are a little tricky to use, and an experienced hand helps. But if you're motivated and you learn quickly, this machine is pretty easy to use.

Does it have a fast stitch speed?

Answer: The speed on the Brother HC1850 is around 850 stitches-per-minute. This is on the lower end of the range for most home sewing machines, but it still gets the job done efficiently.
Final Thoughts
Overall, this machine has a lot of excellent stitch choices, without too many extra bells and whistles. It can handle your sewing and quilting projects with ease, and it includes plenty of accessories to accommodate many different types of projects.
If you're looking for a solid computerized machine with a lot of options, this machine is a good choice for you. Hopefully you've learned everything you need to know about this model with my Brother HC1850 review!