If you're looking for a great little machine for casual, everyday sewing, check out my Brother ST371HD review. This versatile machine can handle most projects you throw on it. Whether you're assembling Halloween costumes, hemming pants, or making tote bags for friends and family – the Brother ST371HD sewing machine can handle it.
Strong and Tough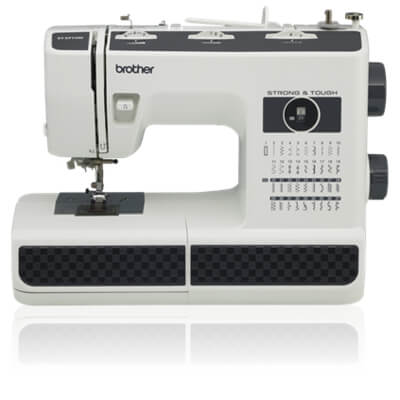 The "ST" in the Brother ST371HD stands for "strong and tough" (and the HD stands for heavy-duty). And this machine certainly lives up to its name.
With a durable metal plate and spring action zigzag foot, this machine can handle folded seams or thick fabric. The body is made of plastic, but the built-in carrying handle makes it conveniently portable.
Key Features
This machine is pretty basic, but it has plenty of features to get you started. Here are the key features for the Brother ST371HD:
37 built-in stitches (utility, decorative, and stretch)
Metal needle plate
800 stitches-per-minute stitch speed
1-step buttonhole
Automatic needle threader
Free arm (for hems and sleeves)
6 interchangeable feet
Handy extra accessories
While the Brother ST371HD is not a computerized machine, the manual mechanics perform well. I actually prefer manual mechanical machines, just due to the nature of their simplicity.
Variety of Stitches
This machine comes with 37 built-in utility and stitches. This is a nice variety for casual sewers, and it also has a handy 1-step buttonhole feature as well.
You can adjust the stitch length, width, and tension as necessary using handy dials. You can also increase the stitch width up to 7mm (many machines only go up to 6mm).
Heavy-Duty Performance
This machine can handle tough fabrics, thanks to the metal needle plate and included heavy-duty needles. The metal plate helps slide thick fabrics through the machine more easily, but make sure you're using a fresh needle when working on tough fabrics.
Interchangeable Feet
The Brother ST371HD includes several interchangeable feet that can assist with a variety of projects – 6 in total.
This machine comes with a nonstick foot perfect for gliding over difficult fabrics, and it also includes a spring-action zigzag foot that can handle fabrics with varying degrees of thickness. It also includes several extra snap-on feet for zippers, blind stitches, buttonholes, and button-sewing.
Drop-in Top Bobbin
The drop-in top bobbin resists jamming, so as long as you're using high-quality thread and following the instructions, it's a fairly easy process. Make sure you're using compatible Brother ST371HD bobbins for optimal performance.
Automatic Needle Threader
This feature is really handy, especially for a novice sewer. The automatic needle threader takes the guesswork out of threading that tiny needle.
If you need help figuring out how to thread your sewing machine, check the manual! There are also tons of helpful videos online, too.
Extra Accessories
Aside from the interchangeable feet, the Brother ST371HD also comes with some extra accessories, and a removable accessory tray to hold them.
Extra needles and bobbins
Spool pin and spool caps
Screwdriver
Instructional DVD and quick-start guide
Soft dust cover
Pros and Cons of the Brother ST371HD
Let's Compare
If you're having trouble deciding which machine is right for you, take a look at these comparison breakdowns.
Brother ST371HD vs Singer 4452
Both the Brother ST371HD and the Singer 4452 are solid, basic machines. They both include extra presser feet and feature an automatic needle threader.
However, the Brother ST371HD has 37 built-in stitches, and the Singer 4452 only has 32. The stitch speed on the Singer is much faster (1,100 stitches-per-minute), but the Brother's lower stitch speed is acceptable for most home sewers.
Brother ST371HD vs Janome HD3000
The Janome HD3000 is another basic, heavy-duty machine. It features 18 adjustable stitch options, which is significantly fewer than the Brother ST371HD's 37.
Both models come with additional snap-on presser feet, but the spring action of the Brother ST371HD's makes it a little more capable of handling tricky fabrics.
Additional Tips
Even though this is a heavy-duty machine, it's still a fairly lightweight and simple home machine. It can handle tough fabrics, but there is less room for error on this model. Follow these additional tips to keep your machine in peak performance.
Consult the Brother ST371HD manual or quick-start guide (or included DVD!) if you're not sure about something. You can also check YouTube for handy official videos and demonstrations.
Always use high-quality thread, and keep your machine clean! Nothing jams up a project more quickly than a gummy machine.
Familiarize yourself with threading the bobbin, using the automatic needle threader, and working the pedal before you begin. These can be a bit tricky for a beginner, but with practice you'll quickly get the hang of them.
Double-check that you're using the right Brother ST371HD bobbin size. The wrong bobbin can cause problems in your machine that aren't immediately visible – but that can hurt your machine over time.
Brother ST371HD F.A.Q.
Can I use it for quilting?

Answer: It's not specifically optimized for quilting, but you could quilt with it. You can drop the feed dogs for free-motion quilting, and it can also handle thick fabrics fairly easily.

Can it handle both lightweight and heavy fabrics?

Answer: Yes! However, make sure that you're loading your Brother ST371HD bobbin correctly, and that you have the correct settings for your project. It takes time to learn all the different settings required for different projects, but you'll get the hang of it.

Is this machine good for a beginner?

Answer: Yes, it is. The automatic needle threader is especially handy for those who are new to sewing. However, make sure to take advantage of the instructional DVD included with your machine.
Final Verdict
My final thoughts for this Brother ST371HD review – this is a versatile little machine is easy to use and suitable for most home sewers. It's heavy-duty enough to handle jean hems and heavier fabric, but it can also perform well with lighter fabrics too.