If you've been on the hunt for a nice, basic, heavy-duty sewing machine that can handle a variety of projects, then you need to read this comprehensive Singer 4452 review. Okay, this sewing machine can't solve all your problems, but it comes pretty close.
I've tried a lot of sewing machines in my time, and sometimes extraneous features are more of a hindrance than helpful. If you aren't sure what features you need in a sewing machine just yet, that's okay. Keep reading to decide if the Singer 4452 is the right choice for you.
A Basic Workhorse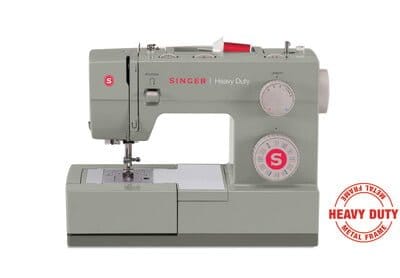 The Singer 4452 may not be the most elegant or sleek machine out there, but it gets the job done. It's a pretty basic manual machine, which means it has manual setting adjustments (no fancy computer chip).
Because of this, you can really play with the settings and figure out what tension and stitch length will work best for your project. When you need to work slowly and carefully, you can utilize the hand crank instead of the high-speed foot pedal.
My first sewing machine was a Singer, and while I remember those days fondly, I wish I had something a little more heavy-duty when I was first starting out. Poorer quality machines will crash and burn a lot more quickly, but the Singer 4452 will hang in there.
Key Features of the Singer 4452
Let's get right down to the facts – the Singer 4452 has a ton of features (and accessories!) at your disposal. Let's take a closer look.
This model includes the following elements:
Automatic needle threader
32 built-in stitches (6 basic, 7 stretch, 18 decorative and a 1-step buttonhole)
Boasts a speed of 1,100 stitches per minute
Top bobbin feed
Heavy-duty metal interior design
High adjustable presser foot
Beginner Friendly
While this machine has a few more knobs and settings than other models in this range, a beginner should be able to get the hang of it fairly quickly. It's not overly complicated, and it can handle a variety of different projects.
It can be difficult to commit to a sewing machine, especially if you're still unsure whether or not you'll even enjoy the hobby! But once you practice with it a few times, working your way around the Singer 4452 is not difficult at all.
Adjustable Presser Foot
Not only is the presser foot extra high to accommodate bulky fabric, but the pressure is adjustable as well. This is a key feature that is lacking in other machines, and it enables you to switch back and forth between denim or lace with relative ease.
Wide Variety of Stitches
If you're looking for stitch options, then this is the machine for you. It comes with 32 built-in stitches, which is a large range for a basic home machine.
On top of this, you can also increase the stitch width to up to 6mm, giving you an even wider range of stitch options. Plus, the 1-step buttonhole feature makes tricky buttonholes a little bit easier.
Exceptionally Fast Stitch Speed
This model can crank out 1,100 stitches per minute. Considering most home sewing machines can only manage 500-900, this is one of the fastest models out there.
If you have a large volume of projects, or you spend a lot of time sewing, the fast stitch speed will help you fly through them. It might take you a little while to get the hang of the speed controls, so be aware of that when you first use your machine.
Tons of Accessories
This model comes not only comes with a ton of standard accessories, but several bonus heavy-duty accessories as well. Here is what's included:
All-purpose foot
Zipper foot
Buttonhole foot
Seam ripper/lint brush
Needles
Bobbins
Screwdriver
Even feed/walking foot (pay attention to that one, quilters!)
Non-stick foot for tricky fabrics
Extra needles
Clearance plate
Auxiliary spool pin and spool pin felt
You should also note that this model does not come with a hard cover, despite being a relatively lightweight machine. So, if you're planning to take it on the go, you may want to invest in a more solid case.
Pros and Cons of the Singer 4452
But what about those other machines?
There are many comparable models out there. Consider how the Singer 4452 compares to some similar Singer sewing machines:
Singer 4432 vs 4452
These two machines are very similar. In fact, they look nearly identical – and that's because they have the same built-in features.
While differing in color ever-so-slightly, the only difference between the Singer 4432 and the Singer 4452 is the number of accessories. The Singer 4452 accessories include the standard extra feet, but you'll also get the "heavy-duty" accessories as well – a walking foot, a non-stick foot, a clearance plate, and some extra needles.
Singer 4452 vs 4411
On the other hand, the Singer 4452 and the Singer 4411 are quite different. While they are both basic Singer models, the 4411 is missing some key features that can hinder its performance against the 4452.
For one thing, the Singer 4411 only has 11 built-in stitches vs the 32 of the 4452. It also lacks an automatic needle threader, which can be hard on the eyes if you're not used to it. It's also got a 4-step buttonhole, rather than a 1-step.
Additional Tips
While the Singer 4452 is a decent machine for a beginner to use, check out some of these additional tips to get the best experience with your machine.
Practice makes perfect. This machine's speed is controlled by a foot pedal and a hand crank. At first, you might find it difficult to achieve the correct speed for your project, as the stitch speed on this machine is quite high.
Check the manual. This model has quite a few exposed components that can be a little daunting at first. If you're not exactly sure how something is supposed to fit, consult your manual for help.
Pay attention to the settings. Make sure that you have the machine set to the correct settings for your project. Sewing with the incorrect tension or stitch length can quickly make a mess of things.
Check your bobbin. Before beginning any project, always give a quick check to your Singer heavy duty 4452 bobbin, just to be sure everything is in place. If the bobbin isn't the right size, or it's wound incorrectly, you might have trouble getting your machine to work properly.
Singer 4452 Heavy Duty Review F.A.Q.
Can you use it for leather?

Answer: Sure can! Make sure you have the right needles, and that your tension and stitches are set correctly. Otherwise, you'll jam up your machine and ruin your leather.

What about quilting?

Answer: While it's not designed specifically for quilting, this machine could probably handle it. With a stitch speed of 1,100 stitches per minute and the extra walking foot, those features will make quilting projects a little easier. However, the workspace is pretty small, and the presser foot height isn't as tall as it is on other models.
You may want to consider it as a handy back-up machine (and not your primary quilting machine). The small workspace may be a bit tricky to maneuver, and it may have some difficulty with extra-thick fabric.

Are the bonus feet accessories made out of metal or plastic?

Answer: Most of them are metal, but the included non-stick foot is plastic (so it doesn't stick to vinyl and leather).

What's the voltage?

Answer: This machine runs at .7 Amps and is powered by a 120V adapter. If you are outside the US or Canada, make sure that you have the proper electrical adapter to run this machine.

Where is the reverse lever?

Answer: On this model, the reverse lever is right on the front of the machine. It's labeled with a handy diagram, in case you get into a jam.

Does it come in any other colors?

Answer: Unfortunately, it seems to only come in one color. If you're not a fan of that particular shade of gray, you can always sew yourself a flashy cover!
Final Verdict
My final thoughts for this Singer 4452 review? This is a solid, heavy-duty, and speedy machine. It performs well on a variety of projects for a variety of skill levels.
It may not be as fancy as some other machines (or as attractive, if I'm being totally honest), but it gets the job done properly – and that's the important part.
With 32 different stitches and a boatload of accessories, this sewing machine can handle almost anything you throw at it. This makes it a worthwhile choice for beginners or professional sewers.